My name is Alex Barter I am 22 years old. I am very interested in cryptography and programming in general, I mostly program in the object orientated program Java. I first starting programming in about 2011 making modifications for the well known game pc Minecraft. After making a significant amount of money and my modifications being featuring on some of the biggest YouTube channels my attention was captured by the National Cipher Challenge.
My first was the 2013 Cipher Challenge in which I entered with a friend, we manged to do most the challenges apart from the last 2, overall coming about 200th. In 2014 we both entered again, again coming about 200th. In 2015 we had 2 more friends join our team, we came 2nd winning the IBM Prize of £800. This year (2016-17) I entered as a solo participant, hoping to do one better with my exhaustive list of cipher programs. I did succeed, gaining the Gold Award and the GCHQ Prize of £1000! Well done to everyone else who entered in the challenge. Harry compiled a guide created from the winners methods and processes when cracking 8B.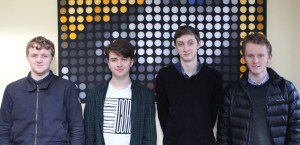 Most the content on this website will be aimed to help explain how many ciphers work and how to break them (find the key). The ciphers will range all the way from the Caesar Shift to the most famous: the Enigma Machine cipher and possibly some you have never seen before!